Intermodal Drayage Service Area
Manchester Motor Freight provides intermodal drayage trucking services throughout all six New England states: Massachusetts, Rhode Island, Connecticut, New Hampshire, Maine and Vermont as well as in the Albany, New York area. Our dispatchers are geographically oriented, with each intermodal railroad terminal (or "ramp") the responsibility of one of our dispatch team groups. Our three highest volume intermodal terminals are CSX Railroad's terminals in Springfield Massachusetts and Worcester, Massachusetts, and Norfolk Southern Railroad's terminal in Ayer, Massachusetts. We also have limited service covering the steamship container port in Boston – Conley Pier.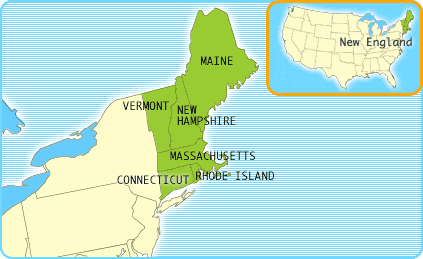 Our Intermodal Drayage Trucking Service Area
Our customers are primarily Intermodal Marketing Companies and Third Party Logistics Companies who are moving freight in intermodal containers across the United States. Manchester Motor Freight provides the trucking service to move the intermodal container from the shipper to the intermodal railroad terminal where it gets loaded on a train for the long distance portion of the shipment or we pickup the intermodal container at the railroad terminal and deliver it to its final destination.
In addition, our truck drivers generally work and live within easy proximity to their designated intermodal terminal facilities which allows for quick and efficient response time for our intermodal shipping customers. Together, the truck drivers and dispatchers for a particular railroad terminal each contribute his or her in-depth knowledge about the consignees, the shippers, the intermodal terminals and the numerous routes in between.
Thanks to our team-oriented approach, Manchester Motor Freight is the most efficient and reliable intermodal drayage trucking company in New England.